Veterans working for Aylesford-based Royal British Legion Industries' have been drafted in as a plaque manufacturer as part of a national tree-planting campaign to celebrate Her Majesty's Platinum Jubilee.
The Queen's Green Canopy (QGC) is a unique tree planting initiative created to mark Her Majesty's Platinum Jubilee in 2022 by inviting people from across the United Kingdom to 'Plant a tree for the Jubilee.'
As part of the campaign, RBLI's factories, which employ military veterans and people with disabilities, have been commissioned to produce steel plaques to signify trees planted under the programme.
The Lord-Lieutenant of Kent, Lady Colgrain – who is The Queen's official representative for the county – joined military veterans at Royal British Legion Industries on the charity's village to plant a Jubilee tree alongside the first of the charity's new plaques to mark their involvement.
RBLI operates two social enterprise factories, Britain's Bravest Manufacturing Company, based in Aylesford, and Scotland's Bravest Manufacturing Company based in Erskine, near Glasgow. Together they employ more than 120 people – more than 70% of whom are military veterans or have a disability. The two factories specialise in making road and rail signs, wooden products such as pallets as well as providing print, mail and fulfilment services.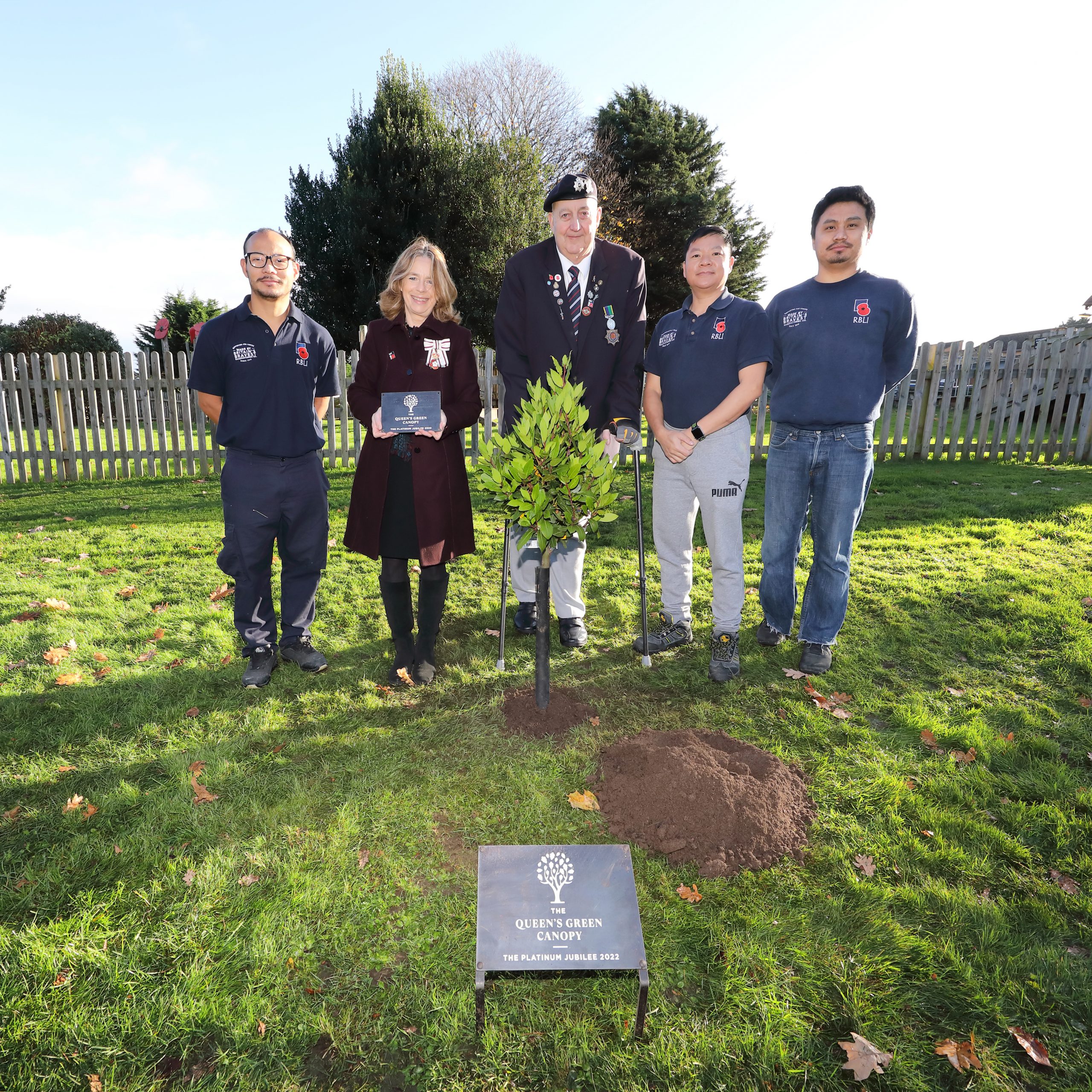 Every penny raised via the sale of the plaques, which are available via RBLI's online shop, goes directly to providing accommodation, welfare, healthcare and employment support to veterans and people with disabilities through the charity's wide range of services.
The Lord-Lieutenant Lady Colgrain said "It was an honour to celebrate the tree planting ceremony alongside RBLI military veterans at the charity's village.
"The Queen's Green Canopy project will have an unprecedented positive environmental impact, creating new areas of greenery across the UK which will last for generations to come.
"But it is not only future generations who will benefit from this tremendous campaign. The project will see vital employment opportunities provided to disadvantaged veterans through RBLI's wonderful work.
"Veterans are making these beautiful plaques so that people, companies and organisations can mark their contribution to the canopy. I would like to encourage everyone in Kent to get involved."
RBLI's Deputy Chief Executive Lisa Farmer said: "It was a privilege to welcome Lady Colgrain to plant the Jubilee tree and unveil our plaques for The Queen's Green Canopy. The Lord Lieutenant is passionate about supporting our Nation's veterans and making sure that they play a central role in this nationally significant project.
"The fact that our team of veterans are producing these stunning plaques is a tremendous vote of confidence in their ability to produce first-class quality products.
"We hope that people all over the UK will take part in this campaign and buy one of our plaques to provide direct support to military veterans whilst also further promoting this wonderful initiative to celebrate Her Majesty's Platinum Jubilee, and support the environment."
Royal British Legion Industries welcomed The Queen to their Aylesford village during their centenary year in 2019. During the visit, The Queen launched the second phase of the charity's Centenary Village project – a £22m development comprising a range of accommodation and welfare support for disadvantaged military veterans and their families. The project is currently under construction with the second phase due for completion next year.
As well as inviting the planting of new trees, The Queen's Green Canopy will dedicate a network of 70 Ancient Woodlands across the United Kingdom and identify 70 Ancient Trees to celebrate Her Majesty's 70 years of service. Trees will be planted in the next three winter to spring planting seasons running from October 2021 through the Jubilee year in 2022 and beyond to 2024.